Last night I was browsing through the pages of Fan Fiction, remembering old stories, and the one thing that hit me was how creative output has declined (at least in quantity) in the past year. The following graph shows the number of threads with their
most recent post
in each year. Since it's based on the year of the last comment made, there should be (and is) a considerable systematic error favouring later dates. Still, even so we see a drop of over 50% in threads in 2010 (projected for the rest of the year) compared to previous years.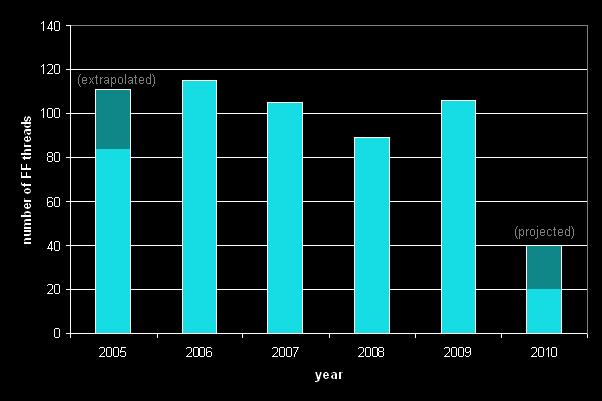 Of the 20 threads with their last reply in 2010 (this one included) only 10 were started in 2010, and although they include some undeniable gems (such as The Rake), one can't help but wonder if this lull is due to the nature of the last two TW games (NTW, in particular, has had only 2 AARs so far; ETW, in the past two years, has had 20), a change in forum demographics or the retirement of an old generation of storytellers without fully passing the torch to a new one.
What do you, the few people who still visit this section, think?